DataTree, NativeDoc and NativeGeometry are LGPL v3.0!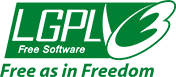 Check out our GitHub!

Also all the application has been tested against LiveCode 9.
NativeGeometry 3

Scale up/down your entire application instantly! NativeGeometry 3 is the LiveCode geometry manager that do the work for you!
Learn more
NativeSoft LiveCode extensions are open source!